1975 – 1979 Firebird Trans Am Exhaust System With HO Manifolds
The 1975 – 1979 Trans Ams were ok performance cars of their day but lead a lot to be desired when it comes to matching up to the performance of the earlier Trans Ams.  We know here at Gardner Exhaust Systems this has been a thorn in the side of the the later Trans Am owners for some time. We have heard from many 1975- 1979 Trans Am owners how much an exhaust system is needed that could match up to HO manifolds and eliminate the catalytic converter yet still remain and original looking exhaust with the splitters.  We listened and what you see here is what we believe to be the product you demanded.  This system comes 14 ga. aluminized tubing coated inside and out. The head pipes, over axle pipes and tail pipes with the exact correct brackets welded on are  all 2 1/4″ for better flow and are matched up to a custom turbo muffler for a little more performance and an extra bit of rumble for the Trans Am enthusiast. This exhaust system comes with replacement front hangers.  If those hangers are not close enough to original the exact correct ones are available along the correct tail hangers.  The exact correct splitter tips that give these cars their signature look will also come with the system.  All clamps sealant and instructions will be kitted up as well. As with all of our systems there will be no cutting, bending, sizing or welding, OOPS!  Sorry guys you are going to have to weld the tips on this one. We leave these loose for the Trans Am hobbyest to get them angled the way they want them.
If you are tired of loosing in performance to the 1970 – 1973 HO Firebirds this may be the system for you.  The next time you roll up to one of those birds they may be in for a bit of a surprise.
1975 – 1979 Trans Am Exhaust System for HO Exhaust Manifolds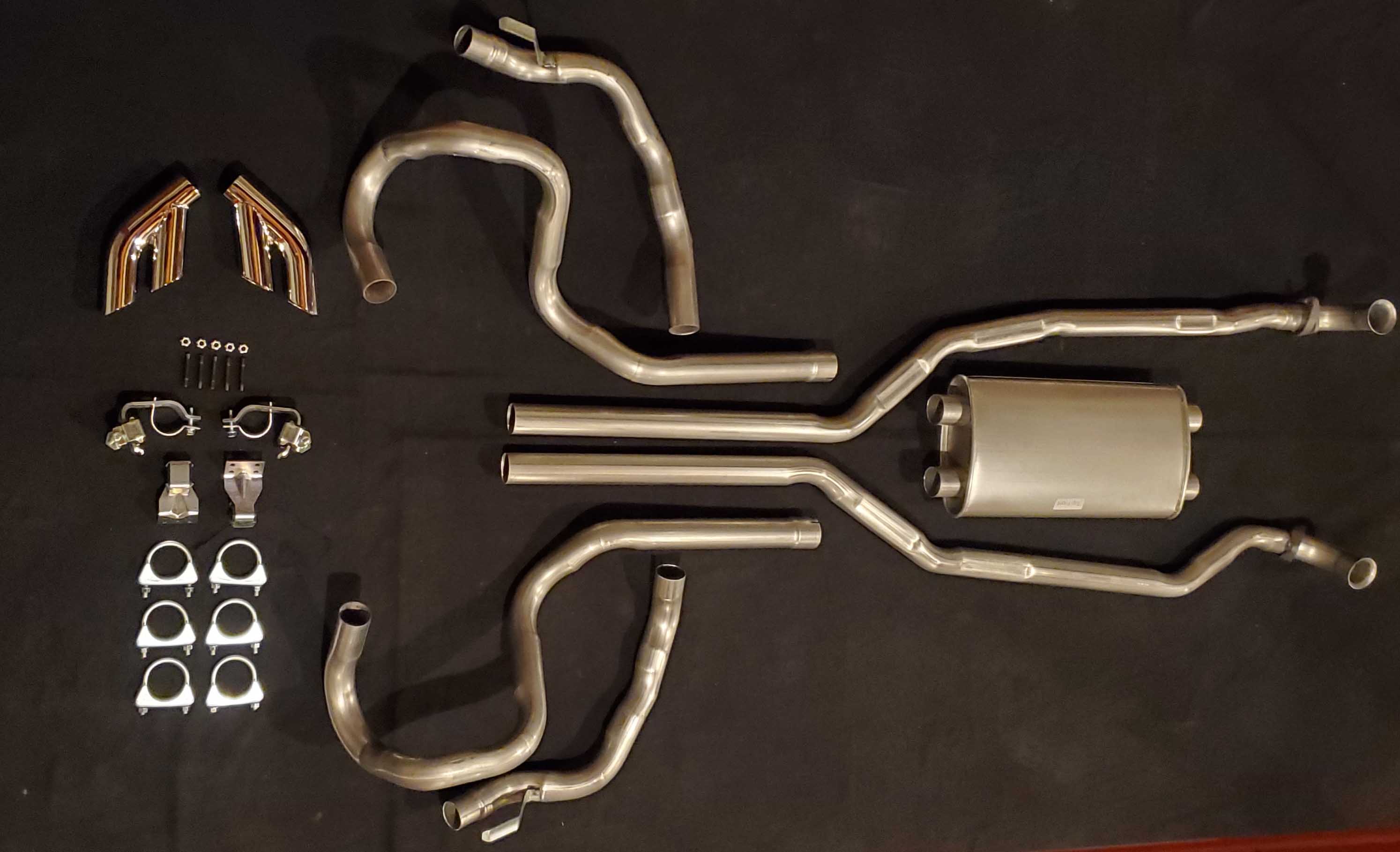 1975 – 1979 Trans Am Tips